The El Neil Collection on Sale Now! [ Feb 17, 2020 ]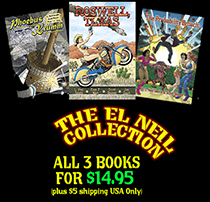 So you've wanting to buy all 3 of L. Neil Smith's classic Big Head Press graphic novels? Well, wait no longer. That day has arrived. All 3 of El Neil's books can now be ordered direct from the publisher for the low price of $14.95 USD (sorry, offer only available in the USA).
Included in this collection: El Neil's space pirate swash-buckler, Phoebus Krumm, his alternate Texas history sci-fi spy thriller, Roswell, Texas, as well as his twice Prometheus award winning sci-fi adventure, The Probability Broach: The Graphic Novel". The collection's art by Quantum Vibe creator Scott Bieser. You won't find a better deal this side of LaPorte. Order now while supplies last!
Please help Scott keep QUANTUM VIBE alive!
Buy our books:

Become a subscriber or patron
Transcript For Strip 131
Panel 1
Nicole and Seamus in their quarters. Seamus has his seat-back raised to a comfortable recline as he reads something on his Screen. Nicole has her couch laid flat and she lays on it supine with one knee drawn up and the other leg resting across it, in a classic bored-teenager pose.
Nicole: I can't believe it will take us 17 days to get from Mercury to Venus when we got to Mercury from near Terra in six.
Panel 2
Seamus responds without looking away from his Screen.
Seamus: Mercury and Venus are on opposite sides of the Sun now, so we have to traverse a good deal more space.
Seamus: As you should well know, or else I'm over-paying you.
Panel 3
Nicole has her palms on her forehead, elbows outward as if she's trying to keep her skull from exploding.
Nicole: Dammit, this isn't a cruise-liner! There's nothing to do here but look at the same five faces! I'm shucking BORED, Seamus!
Panel 4
Seamus finally looks over at Nicole, somewhat scornfully.
Seamus: Why not fill the time by expanding your horizons ...
Seamus: Get out your Screen, get on the Network, and explore some topic you've never given much thought to before.

Panel 5
Now Nicole has her Screen out in front of her, and her chair-back raised like Seamus'.
Nicole: What sort of topic?
Seamus: For you, anything that isn't technical. Or about drinking.

Panel 6
Nicole has her Screen out, sized to about 20 x 30 cm and holding it in her left hand while finger-mousing with her right index finger.
Nicole: How about this? A LunaView docu on 'The Beltape Enigma.'
Seamus: Sociological? Perfect.
Panel 7
Looking at the Screen, now enlarged to about 48x32 cm, held in landscape mode. The screen is dominated by a video image, of an unhappy-looking, shackled male Beltape being escorted by husky 'normal' men wearing badges and shock-sticks.
Voiceover: LUNAS SOSHUL SERVICEZ R BEAN CHALENGD BY AN INCREASIN NUMBR OV DISRUPTIV IMIGRANTZ

Panel 8
Now the image shows a security-camera feed of a pair of male Beltapes rampaging through a bar, shattering furniture and scattering patrons.
Voiceover: MOST DRAMATIC IN THER ADJUST-FAIL R TEH BELTAPEZ, 2 SUM EXTENT DUE 2 DAR SHER SYZ.