The El Neil Collection on Sale Now! [ Feb 17, 2020 ]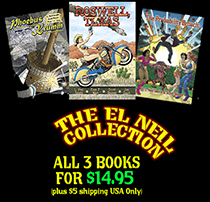 So you've wanted to buy all 3 of L. Neil Smith's classic Big Head Press graphic novels? Well, wait no longer. That day has arrived. All 3 of El Neil's books can now be ordered direct from the publisher for the low price of $14.95 USD (sorry, offer only available in the USA).
Included in this collection: El Neil's space pirate swash-buckler, Phoebus Krumm, his alternate Texas history sci-fi spy thriller, Roswell, Texas, as well as his twice Prometheus award winning sci-fi adventure, The Probability Broach: The Graphic Novel. The collection's art by Quantum Vibe creator Scott Bieser. You won't find a better deal this side of LaPorte. Order now while supplies last!
Please help Scott keep QUANTUM VIBE alive!
Buy our books:

Become a subscriber or patron
Transcript For Strip 1736
Panel 1
Another shot of Alyss and Diana and Juan in the booth. Still chatting.
Caption: The other thing that bothers me about Roaz, is her high-handedness.
Caption: Even when she was human, she'd come up with grand ideas that disrupted a lot of people's lives and she didn't seem to care.
Caption: While she did develop some awesome technology, she could stand to learn some humility, in my opinion.
Panel 2
Finally, we get let in on the conversation.
Alyss: Well, of course I didn't ask to meet you here just to reminisce about old times.
Alyss: But there's a loose string from our 'Venus 23' adventure that has been bothering me and I want your help tying it off.
Diana: And what string is that?

Panel 3
In lower left of panel, Alyss, in upper right, a memory image of Hayami.
Alyss: Hayami. The gynoid whom I'd hired to assist me on your homeworld, but then betrayed me and destroyed my biological body.
Alyss: She was murdered shortly after we returned to Oz.
Alyss: Which is a remarkable feat in and of itself. She was physically quite formidable.
Panel 4
Another three-shot of Alyss, Juan, Diana. The latter two are exchanging glances.
Alyss: But what's more remarkable is her 'back-up' went missing, too.
Alyss: I'd thought her actions came from a misguided ideology, but obviously she knew something that someone didn't want revealed.
Alyss: I think that someone wanted me eliminated and I want to find out who it is.