Scott @ LP Con 2020! [ Feb 8, 2020 ]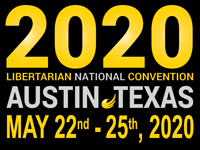 Been wishing you could meet Quantum Vibe creator Scott Bieser and get his autograph on one of his many graphic novels? If you're going to be in Austin, Texas the weekend of May 22nd through the 25th this year, you're in luck. Big Head Press will be selling books in the exhibit area for the 2020 Libertarian Party Convention. Scott will also be at the table, helping out and chatting with fans.
You don't have to be a libertarian or have any interest in politics to come see us. The exhibit area is open to the public, in the JW Ballroom on the 4th floor of the JW Marriot in downtown Austin.
Please help Scott keep QUANTUM VIBE alive!
Buy our books:

Become a subscriber or patron
Transcript For Strip 1815
Panel 1
On a holoscreen, we see the image of Byron Tchaikovsky, a foppish streamer, mugging for the camera. The background is filled with the trademark 'BYRON' logo.

Byron: Good day, good day, my darlings! I'm Byron Tchaikovsky and I question everything!
Byron: Our question today is, has the venerable Smith & Holder Assurance agency gone off the rails? Jumped the shark? Lost its cool?
Panel 2
Byron is on the left side of the frame, filling the rest is an image of Diana as she was being medically treated at deClayre's mansion. She is naked under a sheet, her right arm laid bare to show the horrible broken fore-arm.

Byron: One of its agents, who we have recently identified, viciously assaulted a young refugee, Diana Martelli, while confronting her at her job.
Panel 3
On a broadcast set, we now see Byron seated in a tall chair next to Lorelei, also seated in a tall chair. Lorelei has been dolled up to look younger than before. The chairs are on a slightly raised platform.
Byron: She was able to flee the agent and found refuge with none other than Lorelei Wodenstar deClayre, who has become the girl's protector.
Caption: The way Bostwick dolled Lorelei up, she looked closer to 20 than 240.
Panel 4
Pull back farther to include a very uncomfortable-looking Diana sitting on another tall chair on the right of Lorelei. Her hair is waxed down, and her clothing makes her look like a tall 12-year-old.
Byron: Today we have Senhora deClayre with us in studio, and also the young Diana Martelli herself! May I call you Diana?
Diana: Uh, sure.
Caption: What that little fucker did to me, I will never forgive.