The El Neil Collection on Sale Now! [ Feb 17, 2020 ]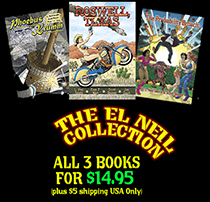 So you've wanted to buy all 3 of L. Neil Smith's classic Big Head Press graphic novels? Well, wait no longer. That day has arrived. All 3 of El Neil's books can now be ordered direct from the publisher for the low price of $14.95 USD (sorry, offer only available in the USA).
Included in this collection: El Neil's space pirate swash-buckler, Phoebus Krumm, his alternate Texas history sci-fi spy thriller, Roswell, Texas, as well as his twice Prometheus award winning sci-fi adventure, The Probability Broach: The Graphic Novel. The collection's art by Quantum Vibe creator Scott Bieser. You won't find a better deal this side of LaPorte. Order now while supplies last!
Please help Scott keep QUANTUM VIBE alive!
Buy our books:

Become a subscriber or patron
Transcript For Strip 1825
Panel 1
Lorelei and Diana seated near one another on the second sofa.
Lorelei: Despite what I said earlier, I now feel you'd do best to continue residing here, until all this is resolved.
Diana: I'm grateful for your assistance, and value our friendship, but I disagree.
Diana: You might become a 'target' as well and I'd hate to see you injured.
Panel 2
Lorelei and Diana
Lorelei: Oh, but this mansion is well-defended.
Diana: But you don't stay home all the time, Lorelei.
Diana: Sure you take precautions, but do you want to invite a professional assault?
Panel 3
Lorelei and Diana and Dong.
Lorelei: But where will you go?
Dong: I can also locate a suitable residence for Senhora Martelli. Not fancy but safe, and with a extra room and amenities for my nieces.
Lorelei: Oh, are you also a rental agent?

Panel 4
Dong smiles. Lorelei and Diana look intrigued.
Dong: As the need arises, I wear many hats.
Dong: And I can tell you that security does not come from big, impersonal enterprises, or fancy weapons, or formal law.
Dong: Mainly, it comes from being smart, and aware.
Dong: But it also comes from knowing the right people, and being known by them.