The El Neil Collection on Sale Now! [ Feb 17, 2020 ]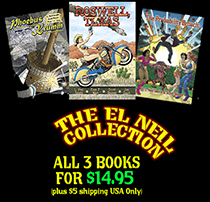 So you've wanting to buy all 3 of L. Neil Smith's classic Big Head Press graphic novels? Well, wait no longer. That day has arrived. All 3 of El Neil's books can now be ordered direct from the publisher for the low price of $14.95 USD (sorry, offer only available in the USA).
Included in this collection: El Neil's space pirate swash-buckler, Phoebus Krumm, his alternate Texas history sci-fi spy thriller, Roswell, Texas, as well as his twice Prometheus award winning sci-fi adventure, The Probability Broach: The Graphic Novel". The collection's art by Quantum Vibe creator Scott Bieser. You won't find a better deal this side of LaPorte. Order now while supplies last!
Please help Scott keep QUANTUM VIBE alive!
Buy our books:

Become a subscriber or patron
Transcript For Strip 1856
Panel 1
Inside their apartment. The four are sitting in a living room, gathered in sofa and chairs around a central table with a holo-projector sitting in the center. Currently unused. Everyone has a drinking cup in hand.
Caption: Our apartment wasn't too bad, at least it was clean. The lighting was a bit lower than what I was used to, but that seemed to be a consistent theme here.
Caption: After I took care of my personal needs, we gathered in the living room to take stock of our situation.
Panel 2
Dong, Diana, Wook, Areum
Dong: By now Senhora deClayre will have noticed her trackers are disabled. Has she tried to contact you?
Diana: Nope. Nothing from her or her staff.
Areum: Her staff?
Panel 3
Two-shot of Diana and Wook. Diana is turned to face Areum, O.P.
Diana: One of her staff – a boy named 'Otto' – was my, well, valet while staying at the deClayre mansion.
Diana: He saw to all my needs, made me feel completely at home there.
Wook: ALL of your needs??
Panel 4
Show all four. Wook is blushing.
Diana: All except sexual, if that's what's on your mind, Wook.
Diana: I was thinking he has some sort of crush on me. But he didn't see me off when we departed this morning.
Dong: Ah, crushes usually end up getting crushed.