The El Neil Collection on Sale Now! [ Feb 17, 2020 ]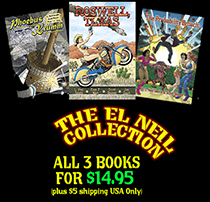 So you've wanted to buy all 3 of L. Neil Smith's classic Big Head Press graphic novels? Well, wait no longer. That day has arrived. All 3 of El Neil's books can now be ordered direct from the publisher for the low price of $14.95 USD (sorry, offer only available in the USA).
Included in this collection: El Neil's space pirate swash-buckler, Phoebus Krumm, his alternate Texas history sci-fi spy thriller, Roswell, Texas, as well as his twice Prometheus award winning sci-fi adventure, The Probability Broach: The Graphic Novel. The collection's art by Quantum Vibe creator Scott Bieser. You won't find a better deal this side of LaPorte. Order now while supplies last!
Please help Scott keep QUANTUM VIBE alive!
Buy our books:

Become a subscriber or patron
Transcript For Strip 1882
Panel 1
Cut to Zander and Ginger's parlor. A jumble of mismatched furniture, boxes, and mechanical parts laying about. Wook, Diana, Zander and Ginger are seated in roughly a circle.
Caption: We moved to their 'parlor,' as they called it:
Diana: So, what did you find out?
Zander: I got 27 hits on 'Républicains Pour La Démocratie' among their personnel, scattered among numerous divisions and spheres.
Zander: That's out of 840 staff including both field agents and clerical and support people.
Panel 2
Diana and Zander.
Diana: Hmmm. How many are current members?
Zander: None. All of them are 'former' or 'sometimes associated with.'
Diana: I wonder how many people in this city could be described that way?
Panel 3
Zander and Ginger.
Zander: I could crack the RPLD system and find out for you, but Ginger insists that I limit, ah, this sort of activity.
Zander: We don't want to lose our cred.
Ginger: More to the point, we don't want to get sued into penury.
Panel 4
Wook, Diana, Zander and Ginger. Diana is looking a bit embarrassed.
Zander: We could lose everything. We might have to move to Pandemonium.
Ginger: Yeah, can you imagine having to live among all those losers and thugs? Yuk!