The El Neil Collection on Sale Now! [ Feb 17, 2020 ]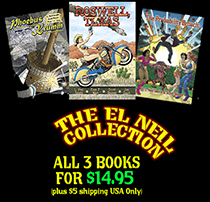 So you've wanted to buy all 3 of L. Neil Smith's classic Big Head Press graphic novels? Well, wait no longer. That day has arrived. All 3 of El Neil's books can now be ordered direct from the publisher for the low price of $14.95 USD (sorry, offer only available in the USA).
Included in this collection: El Neil's space pirate swash-buckler, Phoebus Krumm, his alternate Texas history sci-fi spy thriller, Roswell, Texas, as well as his twice Prometheus award winning sci-fi adventure, The Probability Broach: The Graphic Novel. The collection's art by Quantum Vibe creator Scott Bieser. You won't find a better deal this side of LaPorte. Order now while supplies last!
Please help Scott keep QUANTUM VIBE alive!
Buy our books:

Become a subscriber or patron
Transcript For Strip 196
Panel 1
In the encounter room at Dalliances, Seamus and Nicole continue their ultra-private conference.
Nicole: This new formulation … such a small change … but a huge difference.
Seamus: Yes, the implications are mind-boggling.
Panel 2
Looking past Nicole at Seamus.
Seamus: You can work out all the other implications later if you like, but right now our focus is on the one:
Seamus: That matter can be moved from one quantum reality to another, if one can change its quantum vibratory frequencies.
Panel 3
Looking past Seamus at Nicole.
Nicole: And you think you have a means of doing so?
Seamus: I do. The key is finding the Quantum Vibratory Constant, down to the 23rdth significant digit.
Panel 4
Now Nicole's eyes brighten with understanding.
Nicole: That's why you needed to set off those nukes on the Sun!
Seamus: And take precise measurements of the event at varying distances, yes. The results will yield the data I need.
Panel 5
Seamus and Nicole.
Nicole: Okay, if you were anyone but you, I'd be sure I was being scammed.
Seamus: No doubt.
Panel 6
Close-up on Nicole, looking thoughtful.
Nicole: But you are the famous Seamus O Murchadha, whose past inventions have transformed human civilization.
Nicole: And this would top them all.
Panel 7
Looking past Nicole at Seamus, who is looking rather impatient.
Nicole: And besides all that, Mom gives you her endorsement.
Seamus: Vanessa is too kind. So, are you in, or aren't you?

Panel 8
Medium close-up on Nicole, looking back on Seamus levelly, with a slight smile.
Nicole: I'm in. Come what may.