The El Neil Collection on Sale Now! [ Feb 17, 2020 ]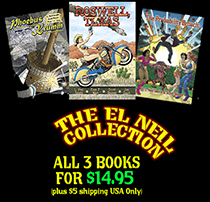 So you've wanted to buy all 3 of L. Neil Smith's classic Big Head Press graphic novels? Well, wait no longer. That day has arrived. All 3 of El Neil's books can now be ordered direct from the publisher for the low price of $14.95 USD (sorry, offer only available in the USA).
Included in this collection: El Neil's space pirate swash-buckler, Phoebus Krumm, his alternate Texas history sci-fi spy thriller, Roswell, Texas, as well as his twice Prometheus award winning sci-fi adventure, The Probability Broach: The Graphic Novel. The collection's art by Quantum Vibe creator Scott Bieser. You won't find a better deal this side of LaPorte. Order now while supplies last!
Please help Scott keep QUANTUM VIBE alive!
Buy our books:

Become a subscriber or patron
Transcript For Strip 1977
Panel 1
A breathless Otto is emerging into the boutique again, his hand alongside his face to show he's calling someone over the network.

Caption: Otto had to get clear of whatever was blocking the telenet signal so he could call for help.
Caption: As soon as he was able, he called his boss, Lorelei deClayre, who immediately contacted Alyss.
Panel 2
In the center, Alyss is barking commands while appearing to have six arms pointed in various directions. Minions are running in various directions.

Caption: The way Otto described it, Alyss 'went into warlord mode,' mobilizing every employee, family member, and friend she could wrangle, to search the city for me.
Caption: He made a point of letting me know that Lorelei was working on my behalf, too.
Panel 3
Scene in a bar, some of the patrons are watching a 3D viewer wherein our old friend Byron Tchaikovsky is holding forth, with an image of Diana (as she normally appears, not in that ridiculous makeup from before) appearing over his shoulder.
Caption: Among other things she got Byron Tchaikovsky to sound the alarm.
Caption: Byron's netstream reaches more than 25 other worlds besides Bubbleopolis.
Caption: Thus I had become an inter-galactic cause celebre.
Panel 4
In the labyrinth under the shopping mall, Otto has led Dong Gyeon-Hoon and Areum to where Wook's body was still cradled in Diana's Bubb.
Caption: And despite all the commotion, Otto remembered to contact Dong and lead him to where Wook's body had been left behind.
Caption: Dong has offered Otto free Tae Kwon-Leep lessons. I told Otto it would be better than a boot to the head.