The El Neil Collection on Sale Now! [ Feb 17, 2020 ]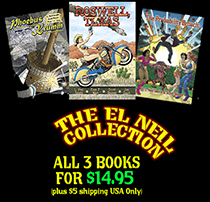 So you've wanting to buy all 3 of L. Neil Smith's classic Big Head Press graphic novels? Well, wait no longer. That day has arrived. All 3 of El Neil's books can now be ordered direct from the publisher for the low price of $14.95 USD (sorry, offer only available in the USA).
Included in this collection: El Neil's space pirate swash-buckler, Phoebus Krumm, his alternate Texas history sci-fi spy thriller, Roswell, Texas, as well as his twice Prometheus award winning sci-fi adventure, The Probability Broach: The Graphic Novel". The collection's art by Quantum Vibe creator Scott Bieser. You won't find a better deal this side of LaPorte. Order now while supplies last!
Please help Scott keep QUANTUM VIBE alive!
Buy our books:

Become a subscriber or patron
Transcript For Strip 31
Panel 1
Back in the L-5 City, Nicole enters an establishment identified by a sign, 'Alizadeh Interfacing.'
Caption: In the Arch, L-5 City.
Panel 2
Nicole stands before a receptionist desk, behind which is seated another young-looking woman of apparent Iranian extraction. Nicole is handing the woman a card.
Nicole: I'm Nicole Oresme, here for my 13:00 appointment. This is my referral.
Panel 3
Medium close-up of the receptionist looking at the card, eyes widening.
Receptionist: Peyman!
Panel 4
A rather large and not-too-bright-looking Persian man appears instantly next to the Receptionist, somewhat startling Nicole.
Receptionist: Escort this honored client to the preparation room at once.
Panel 5
The preparation room. Peyman remains by the door as Nicole enters. Also in the room are Farzad Alizadeh, a middle-aged Persian man, and a young, bright-looking male assistant, Yousef. Front and center is something that looks like a dentist's chair.
Farzad: Welcome, Ms. Oresme. I am Dr. Farzad Alizadeh and this is my assistant, Yousef.
Farzad: Please have a seat and we'll get started right away.
Panel 6
Three-shot of Farzad, Yousef and Nicole in the chair, looking slightly uncomfortable.
Farzad: You are to be receiving the M-6460 Series Cortical Processor Implant, the very latest, yes?
Farzad: Yousef, begin the anesthetic procedure.

Panel 7
Same shot. Youself is holding up a small facial breathing mask, but is interrupted by Nicole.
Nicole: Ah, no offense intended, but I'd feel more comfortable with a female assistant, please?
Farzad: Of course.

Panel 8
Suddenly, in place of Youself is a handsome young Persian woman. Nicole looks impressed.
Farzad: This is Niki.
Nicole: Now, that's customer service.
Farzad: Your employer Dr. Murtagh always demands the best.