The El Neil Collection on Sale Now! [ Feb 17, 2020 ]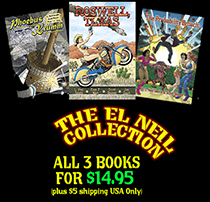 So you've wanted to buy all 3 of L. Neil Smith's classic Big Head Press graphic novels? Well, wait no longer. That day has arrived. All 3 of El Neil's books can now be ordered direct from the publisher for the low price of $14.95 USD (sorry, offer only available in the USA).
Included in this collection: El Neil's space pirate swash-buckler, Phoebus Krumm, his alternate Texas history sci-fi spy thriller, Roswell, Texas, as well as his twice Prometheus award winning sci-fi adventure, The Probability Broach: The Graphic Novel. The collection's art by Quantum Vibe creator Scott Bieser. You won't find a better deal this side of LaPorte. Order now while supplies last!
Please help Scott keep QUANTUM VIBE alive!
Buy our books:

Become a subscriber or patron
Transcript For Strip 322
Panel 1
The Guard stands with Nicole just inside the door to a holding cell. The cell is 4x3x3, but we just see the end of it with the exit door and a couple of the other prisoners flanking it in this frame.
Guard: Dis iz ur new cellmaet, Nicole. Tell her da rulez.
Panel 2
A diminutive but tough-looking Korean girl, flanked by two Samoan flunkies, confronts Nicole. Nicole looks at her blankly.
Korean girl: My name is Mac Park. The rules are that you do what I say and don't shuck with me, got it, Elf?
Nicole: Uh ... got it.
Panel 3
Mac points toward the far end of the room.
Mac: Meals are in the common area, at 08:00, 13:00, and 19:00. They'll be opening for breakfast soon.
Mac: Your bunk is down at the end ...
Panel 4
View down the length of the cell. Two sets of bunk-beds alongside each wall, a sink and toilet in the center of the far wall. On the far right side, a Beltape lies in the upper bunk. The others in the cell stand well away from her
Mac: Under the Beltape.
Panel 5
Nicole approaches the bunk-beds designated to her. She eyes the Beltape warily, but the Beltape appears to be asleep (she's on her side with her back to us).
Mac (OP): Don't shuck with the Beltape neither.
Panel 6
Nicole sits on her bunk, pondering her situation.
SFX: BRRRIIINGGG
Mac (OP): That's the breakfast bell, get a move on, Elf!
Panel 7
Nicole is starting to get up but the Beltape rolls out of her bunk at the same time and they collide.
Nicole: Waugh!

Panel 8
Nicole and the Beltape both laying prone on the floor, the Beltape laying cross-ways on top. The Beltape looks confused. Nicole smiles nervously.
Nicole: Ah -- ha-ha -- sorry!
Nicole: I should've looked where you were going.