The El Neil Collection on Sale Now! [ Feb 17, 2020 ]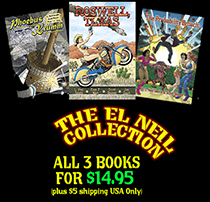 So you've wanted to buy all 3 of L. Neil Smith's classic Big Head Press graphic novels? Well, wait no longer. That day has arrived. All 3 of El Neil's books can now be ordered direct from the publisher for the low price of $14.95 USD (sorry, offer only available in the USA).
Included in this collection: El Neil's space pirate swash-buckler, Phoebus Krumm, his alternate Texas history sci-fi spy thriller, Roswell, Texas, as well as his twice Prometheus award winning sci-fi adventure, The Probability Broach: The Graphic Novel. The collection's art by Quantum Vibe creator Scott Bieser. You won't find a better deal this side of LaPorte. Order now while supplies last!
Please help Scott keep QUANTUM VIBE alive!
Buy our books:

Become a subscriber or patron
Transcript For Strip 323
Panel 1
In the mess hall -- a typical institutional/cafeteria arrangement. All of the women from Nicole's cell, except the Beltape, sit together at one of the tables. Nicole, with her food tray, is sitting down with her cellmates.
Nicole: So, we all eat together as well --?
Mac: You can sit where you want, Elf, but it works better for us if we stick together.

Panel 2
Nicole looks over her shoulder towards a corner of the room where the Beltape sits on the floor, balancing her food tray on her crossed legs. The cellmate she's sitting next to her, Yani, is tall for a Latina.
Nicole: What about ... uh ... my bunkmate?
Yani: She eats alone. She no talk to anybody anyways.

Panel 3
The cellmate on the other side of Nicole, Donna, is a somewhat dowdy African-type.
Donna: Fine by us. Don't want no smelly animals at our table.
Panel 4
The cellmates turn to eating their food. Nicole just stares down at her tray, frowning.
No dialog.