The El Neil Collection on Sale Now! [ Feb 17, 2020 ]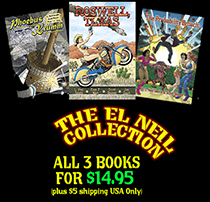 So you've wanted to buy all 3 of L. Neil Smith's classic Big Head Press graphic novels? Well, wait no longer. That day has arrived. All 3 of El Neil's books can now be ordered direct from the publisher for the low price of $14.95 USD (sorry, offer only available in the USA).
Included in this collection: El Neil's space pirate swash-buckler, Phoebus Krumm, his alternate Texas history sci-fi spy thriller, Roswell, Texas, as well as his twice Prometheus award winning sci-fi adventure, The Probability Broach: The Graphic Novel. The collection's art by Quantum Vibe creator Scott Bieser. You won't find a better deal this side of LaPorte. Order now while supplies last!
Please help Scott keep QUANTUM VIBE alive!
Buy our books:

Become a subscriber or patron
Transcript For Strip 596
Panel 1
Nigel, Buford, Nicole and Murphy are seated around a cafe table. The first three have drinks in front of them. Murphy has a gadget about the size of a toaster she's fiddling with.
Buford: So what haf we learned from t'is exercise?
Murphy: I'll tell you in a minute. I'm still decoding the nanites.
Panel 2
Nigel, Buford and Nicole.
Nigel: Well, we learned t'at Bosley is a dodgy outfit.
Nicole: Yeah, I checked their WhoDat ranking on the way over here. It's dropped from 27 to 68 out of 100 over the last year.
Panel 3
Nigel, Buford and Nicole.
Nigel: No kidding!
Nicole: Yeah. The commenters are saying the only reason the outfit stays in business are some contracts with large employers – such as Vesta Vista Developments.
Panel 4
Reverse view and elevated a bit – Nicole, and Nigel conversing, Murphy still fiddling with her gadget.
Nicole: But I don't understand it … you'd think an outfit like Vesta Vista wouldn't want to alienate its employees by giving them sub-standard protective services.
Nigel: When you're not picking out t'e serfice yourself, you don't really t'ink about it much until you need to use it.

Panel 5
Murphy pipes up and instantly has everyone's attention.
Murphy: Ah-HA.
Nigel: Ah-ha?
Buford: She said ah-ha.
Nicole: Ah-ha what?

Panel 6
Medium c/u on Murphy.
Murphy: These nanites are almost like common plaque-cleaning nanites.
Murphy: But instead of moving the plaque to the kidneys, these little nasties are programmed to collect the plaque from all over the body and deposit them at a pre-determined point.
Murphy: In this case, the left basilar artery.
Panel 7
Buford, Nicole and Murphy
Buford: But, how did t'ey get in ...
Murphy: Remember that full-body scan you helped me with?
Murphy: I found the entry point on her right palm.

Panel 8
Murphy and Nigel
Murphy: I'm sorry Nigel, but your sister was most definitely murdered.
Nigel: But, who could'fe done t'is?
Murphy: Anyone who shook her hand.
Murphy: But I think we need to look more closely at Vesta Vista Developments.