The El Neil Collection on Sale Now! [ Feb 17, 2020 ]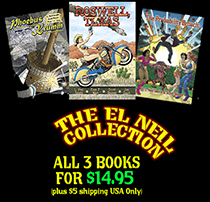 So you've wanted to buy all 3 of L. Neil Smith's classic Big Head Press graphic novels? Well, wait no longer. That day has arrived. All 3 of El Neil's books can now be ordered direct from the publisher for the low price of $14.95 USD (sorry, offer only available in the USA).
Included in this collection: El Neil's space pirate swash-buckler, Phoebus Krumm, his alternate Texas history sci-fi spy thriller, Roswell, Texas, as well as his twice Prometheus award winning sci-fi adventure, The Probability Broach: The Graphic Novel. The collection's art by Quantum Vibe creator Scott Bieser. You won't find a better deal this side of LaPorte. Order now while supplies last!
Please help Scott keep QUANTUM VIBE alive!
Buy our books:

Become a subscriber or patron
Transcript For Strip 699
Panel 1
In the dining room, at the Captain's Table. Captain Alejandro Santos, Seamus, Murphy, Nicole, Gus Mann, Rep. Larry Stockyard, Senator Bud Ringo.
Stockyard: Quite a feather in your cap, Dr. O'Murchadha, heading off that attack on Ceres.
Seamus: Really, I only played a small role. Credit properly belongs to Flemming and Newsdon.

Panel 2
Murphy pipes up, somewhat to Seamus' annoyance. Nicole cocks a wary eye at Murphy.
Murphy: You're too modest, Seamus. It was your genius that pinpointed the location of the black planetoid and tracked it so the prospectors could divert it into a safe orbit.

Panel 3
Rep. Stockyard chimes in.
Stockyard: Whoever deserves credit, we all really dodged a bullet there.
Stockyard: An inter-belt war would have wreaked havok on trade between the Jovian moons and the Inner System.

Panel 4
Seamus casts a sideways glance at Stockyard.
Seamus: Not to mention, the lives of thousands if not millions of Belters.
Stockyard: Yes, yes, of course.