The El Neil Collection on Sale Now! [ Feb 17, 2020 ]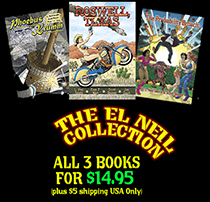 So you've wanted to buy all 3 of L. Neil Smith's classic Big Head Press graphic novels? Well, wait no longer. That day has arrived. All 3 of El Neil's books can now be ordered direct from the publisher for the low price of $14.95 USD (sorry, offer only available in the USA).
Included in this collection: El Neil's space pirate swash-buckler, Phoebus Krumm, his alternate Texas history sci-fi spy thriller, Roswell, Texas, as well as his twice Prometheus award winning sci-fi adventure, The Probability Broach: The Graphic Novel. The collection's art by Quantum Vibe creator Scott Bieser. You won't find a better deal this side of LaPorte. Order now while supplies last!
Please help Scott keep QUANTUM VIBE alive!
Buy our books:

Become a subscriber or patron
Transcript For Strip 1909
Panda:

Greetings, everyone!
I'm Monty Panda and I have some news for readers from my lord and creator, the Cartoonist himself:

QUANTUM VIBE'S Subscribe Star Page is up and running!

'But, what does that mean,' you ask?

I haven't the foggiest idea!
I'm just a cartoon character and someone else writes words in my dialog balloons.

*ahem*

Patreon
has of late become troublesome, shutting down dissenting voices, and violating its own terms of service.

And a recent statement by its
CEO that PAtreon's current model is 'not sustainable' calls its future into question.

Now, we know
that many readers are here for the story, not the politics, and don't care about Patreon's political biases.

But Many of you
do care, and we can now offer you a convenient alternative to Patreon.

It's called Subscribe Star.
A new creator support and subscription service.

You can't use PayPal witth it but you can use a credit-card. We'll have crypto payments set up soon.

So, if you want to support this strip but don't like Patreon here's an alternative. Our page is at subscribestar.com/quantum-vibe .

There should be a button link for it somewhere below, soon as we can tear the webmaster away from his formula-1 racing game.

To view today's strip, just click anywhere on me!